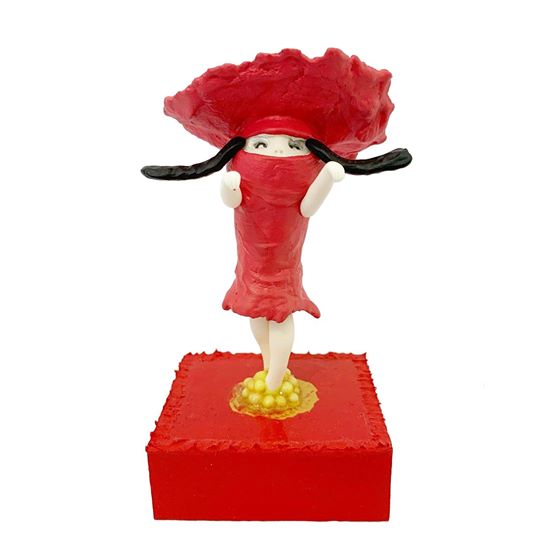 濱田有美
出生於日本兵庫縣,畢業於京都藝術設計大學。
2014年開始在日本國內外藝術展場展出作品。媒材以輕質粘土為主,由樹脂粘土製成的三維作品以及通過記憶拼貼創造的生物。她接收現代日本的生活日常,並將其轉變為自己的世界並輸出。可愛和超現實主義並存,每個角色都展現了鮮明的特徵,投注入了藝術家天馬行空的創意和古靈精怪的靈魂。塑像創作上,還可以看見很鮮明的動態感線條,靜置於空間中,會發現整個空間活潑了起來,氛圍溫暖。作品反映了她生活萬象和內心感觸,帶領大家一窺她內心的小世界。

1987 born in Kobe city
2010 graduated from Kyoto university of ART&DESIGN Oilpaint department

<Solo Exhibition>
2019 Wander Scream gekilin. / Osaka
2018 Wander Kingdom gekilin. / Osaka
2017 We Will Also Wander Today(Linlow / Osaka )
2016 Wandering Camp Links gallery / Osaka )

<Art Fair>
2019 Art Fair Asia Fukuoka 2019 (Hotel OKURA Fukuoka / Fukuoka)
2017 Young Art Taipei 2017 (Sheraton Grand Taipei Hotel / Taipei ) Infinity Japan Contemporary Art Show 2017 (Miramar Garden Taipei / Taipei
2016 the art fair +puls -ultra 2016 (spiral garden / Tokyo )

<Award>
2018 KAIYODO Artpla Award, Winning
2016 Kudoyama Art Festival Award, Grand prize
2015 ATC Students`Art Collection, July Prize ATC Hall / Osaka
AkaMarche2015 Links gallery prize Nakanoshima Park / Osaka
2014 ART stream2014 July Prize DAIMARU Shinsaibashi / Osaka

<other>
2018.BEAMS JAPAN ,consignment sale
濱田的塑像作品稱為「漫遊生物」。就像是怪物或仙子,有豐富多彩的活躍造型 。濱田受到日常生活中的瑣碎事件所啟發,如當她在城市走動時,覺得餓的時候,還有搭上火車時等等。
她接收現代日本的生活日常,並將其轉變為自己的世界並輸出。這次展覽將以今年創作的新作品為中心,呈現濱田的獨特世界。

Hamada's work is a sculpture work named "Wander Creature". It's like a monster or a fairy.And colorful and dynamic modeling. Hamada is inspired by the trivial events of everyday life. When she walks around the city, gets hungry, gets on a train, etc. She accepts modern Japanese daily life and converts it into her own world and outputs it. This exhibition will showcase the unique world of Hamada, centering on new works produced in 2019.
藝術家 創作介紹影片